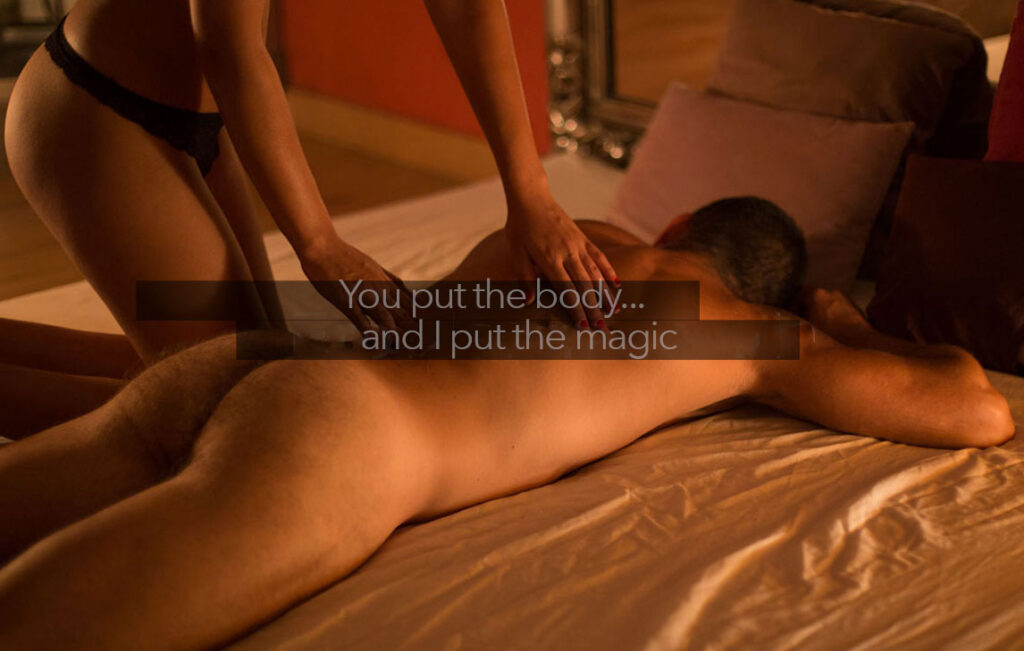 Are you looking for a truly amazing full-body experience?
Then imagine a unique session tailored to your specific needs.
Just lie down, close your eyes, and let me do the magic through my touch – from your head to your toes – including every inch of you.
Ideal for travelers who are suffering from jet lag or businessmen (and women too) experiencing a lot of stress. Or, for those with sore muscles or because you just need to reset from time to time. Or maybe you just want to forget about the day and have a very pleasant moment.
I can work on your body in the morning, in the afternoon, or in the evening. A soothing and relaxing experience is waiting for you … to make you feel awesome.
My name is Samantha. I am 44 years old. I am an independent professional and certified masseuse, educated, with a good body, clean and discreet, also good at listening and talking.
I can visit you in your hotel or motel room.
All safe and with total discretion.
What does Ertantric Massage consist of?
To begin, you will be guided to a relaxed and receptive state. I place my warm and soft hands on you and begin to caress and move your body gently with gentle manipulations, typical of a regular massage. I can work areas with more pressure where there is tension and stress and at the same time massage you with many long, slow sensual caresses, with special attention to your erotic and erogenous zones.
You can feel your entire body alive and quivering with orgasmic energy, or experience a whole range of new sensations, perceptions, feelings, or altered states. Your Lingham, (Sanskrit for penis meaning Rod of Light), gets a lot of attention, as do your buttocks, your testicles, and the muscles around your anus. If you require a prostate massage, or in the case of women, a G-spot massage, you have to let me know (everything is always with your consent.)
This is an opportunity to journey deep into your sexual potential, if that is what you desire. You can expect me to touch you not only with my hands and body, but also with my presence, empathy, understanding, and complicity.
This massage is not a sexual service but includes a happy ending at the client's choice. There can be mutual contact but in a respectful way, but also pleasant and relaxing. If you are in your body and in the experience, then that is exciting, energizing, and pleasurable for me too.
My goal is to ensure that your time with me is intensely gratifying on all levels.
An experience to try.
PRIVACY & CONFIDENCIALITY
I understand that privacy and confidentiality are very important to you too, as well as discretion, so let's be prudent and build a fruitful rapport.
I realize there are many providers to choose from, and I appreciate you're selecting me.
*I attend men and women*
*I speak Spanish & English*

Interested? Contact me…