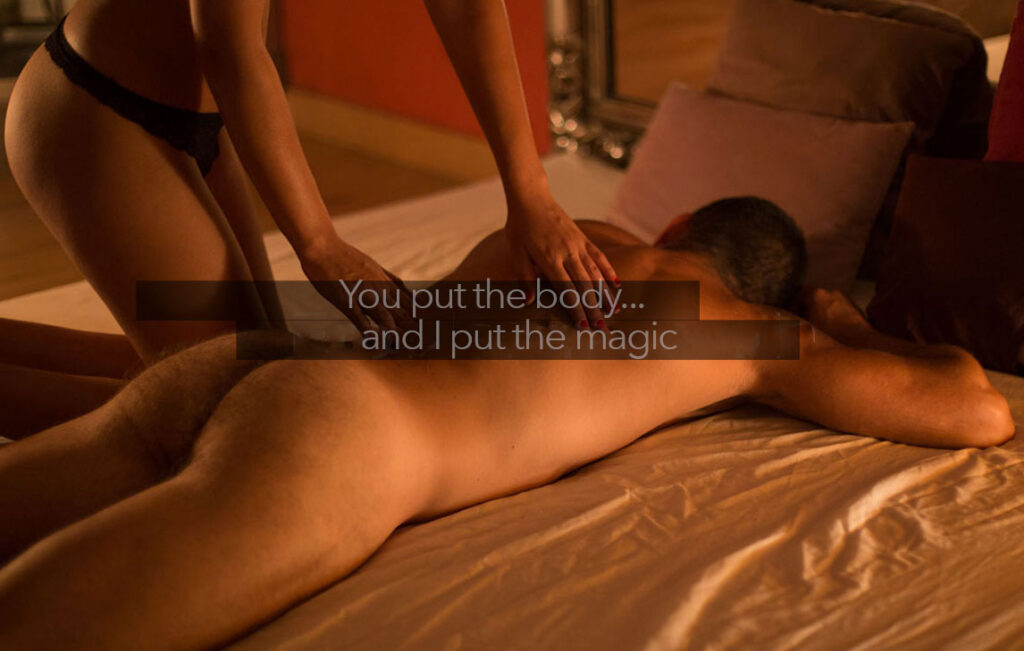 Are you looking for a truly amazing full-body experience?
Imagine then a unique session tailored to your specific needs.
If you do just lie down, close your eyes, and let me do the magic through my touch – from your head until your toes- including every inch of you.
Ideal for travelers who are suffering from jetlag … or businessmen (and women too) experiencing a lot of stress … or for those with sore muscles from a hard routine in the gym… or because you just need to reset from time to time, want to forget about the day and have a very pleasant moment.
I can work on your body in the morning, in the afternoon, or in the evening. A soothing and relaxing experience is waiting for you … to make you feel awesome.
My service consists of a fine full professional relaxing massage rising it up to a pleasant erotic-tantric massage that can lead you to a unique experience.
Using oils with relaxing essences to release your stress & music to set the mood… and.. with a happy ending if it's your choice. All quiet inside a comfortable atmosphere.
My name is Samantha, I'm 43 years old. I'm a professional and certified masseuse lady, educated, with a good body, clean and discreet, good also for listening or talking. I can visit you in your hotel or motel room. All safe and with total discretion. You won't be disappointed!
My goal is to ensure that your time with me is intensely gratifying on all levels.
An experience to try.
PRIVACY & CONFIDENCIALITY
I understand that privacy and confidentiality are very important to you too so let's be prudent and build a fruitful rapport.
I realize there are many providers to choose from and I appreciate you're selecting me.
*I attend men and women*
*I speak Spanish & English*

Interested? Contact me…